With the acknowledgment of service, descreet and concrete, it is easy to imagine the support with donations and bequests of wealthy families of the city, which soon led to the need to decorate worthily the headquarter with a series of frescoes illustrated.
The frescoes are generally ascribed to an author from the workshop of Domenico Ghirlandaio, although recent studies seem to indicate as the most likely among the many hypotheses raised, the name of Francesco d'Antonio, a miniaturist who had his shop in the neighborhood of stationers (involved in the production and sale of books), located right across the street, around the Abbey. This attribution is also supported by the painstaking detail rendering of objects and aspects of common life, typical of those who worked on the precious illuminated pages. Another proposed name is Domenico di Giovanni, at least nine of the ten lunettes, who collaborated with Ghirlandaio Adoration of the Magi of the Innocents and other works.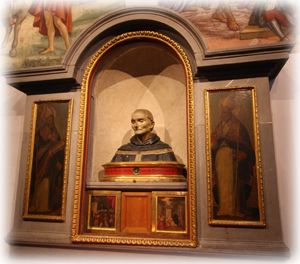 The ten lunettes depicting the Stories of St. Martin (the two next to the altar, representing St. Martin, who gave his cloak to a poor man and the Dream of St. Martin, emblematic of the welfare function), the Works of Mercy and two depicting notarial acts ( Inventory and Marriage), surely influenced by nearby and powerful Guild of Judges and Notaries, which had its headquarter in the nearby Via del Proconsolo.
The lunettes have a very interesting sociological and historical, as well as artistic, as faithfully portray the common life of Florence in the fifteenth century, for example in the first left after the entrance depicts the visit to the sick, where Buonomini bring a chicken and a bottle of wine to a woman who has just given birth, the condition of (formerly) wealthy family is represented by the furniture and the presence of a person who takes the gifts of easements; Buonomini also offer fabric and yarn to dress the baby.
In addition to the frescoes there are a bust of St. Anthony on the altar, attributed to Verrocchio, and a nice fifteenth-century table with a Madonna and Child.
On the front of the door, a shrine to San Martino who gives alms to the poor of Cosimo Ulivelli above the hole where you insert the alms.
(Wikipedia)